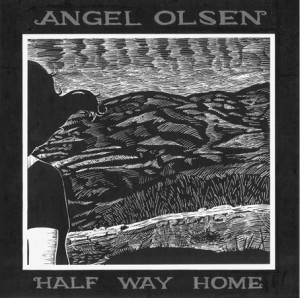 Now here is one that nearly slipped through my fingers. An album from 2012 that got lost in the fray? A record that has the same aesthetic but just isn't as good as The Idler Wheel? Half Way Home is neither of those things, though it may appear that way at first glance. Instead Angel Olsen's first album has an immediate uniqueness to it, like a crooning Karen Carpenter meets Linda Thompson thing. Of course the appeal here is not universal, but the record is good enough to overcome biases, and I get the sense that more people would like this record if they had only heard of it. Case in point, Angel Olsen may very well be the only singer in America that doesn't have a Wikipedia page. Of course that is not true, but I'm sure there are people who have never heard a single note that has gone un-catalogued in the Free Encyclopedia. Olsen seems to make this work for her though, Half Way Home is an intimate affair. If not having a Wiki page is what it takes to be intimate then so be it.
It was only after my first listen to Half Way Home that I discovered that Angel Olsen was a member of a touring group that backed up Bonnie 'Prince' Billy. This as no surprise though. Another shallow comparison; Angel Olsen is like a folk Nico, and perhaps the same thing could be said of Oldham. Olsen has got that growl, that unsettling howl that makes you wonder if anyone is going to howl back. It shows most on songs like Half Way Home's opener Acrobat, but it can be heard throughout, even on the cheerier numbers. Haunting is maybe a word that could describe it, but relatable may be an even better word. Oldham can do that too of course, but Olsen is her own woman and people who don't like Bonnie 'Prince' Billy (however rare they are) may find something here that they don't in Oldham's songs and vice versa.
Half Way Home has all of the trappings of a solid debut. Good enough to stand on its own, good enough to make me want to hear more, good enough to make me want to write this, obviously. It will be interesting to see what Ms. Olsen does moving forward. She has already put out a new single and has recorded a cover of a Richard and Linda Thompson song with Marissa Nadler. To me, there is something about this that screams impeccable taste. Olsen very well could have a career as long as Will Oldham's 20 year odyssey coming her way and thus far she seems to deserve it.