Hello everyone,
Well, February 2013 has come and gone quickly, so it's time that I take a second stab at this Albums of the Month thing. You watched the Super Bowl, laughed (or cried) through Valentine's Day and now you'll hear some good music.
Last month was topped by a couple of hungry newcomers
, but in February the wily veterans struck back in a big way. Heading the charge was Nick Cave & The Bad Seeds, Atoms for Peace and especially
this band
, releasing their album on 2/2 after a 22 year recording absence.
Honorable Mentions: Night Beds - Country Sleep (Dead Oceans), Doldrums - Lesser Evil (Arbutus), Bilal - A Love Surreal (eOne), Frightened Rabbit - Pedestrian Verse (Atlantic), Jim James - Regions of Light and Sound of God (ATO)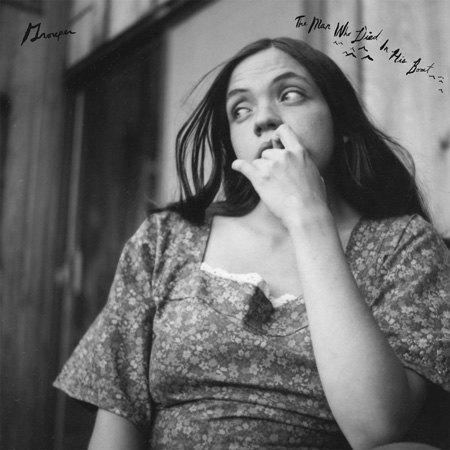 10. Grouper - The Man Who Died in His Boat (Kranky)
Portland, Oregon native Liz Harris's ambient-folk solo project has largely been under the radar, but never unappreciated. Her 2008 release "Dragging a Dead Deer Up a Hill" was out of print until recently, yet it still brought her ravenous praise and dates opening for Animal Collective. "Man Who Died" is taken from the same sessions as "Dragging" and is a testament to consistent and surprisingly prolific Grouper. Sitting on these tracks for five years did nothing to dampen this haunting and droning material, where minimal guitar strumming (if at all) is the only thing that keeps Harris from echoing into oblivion.
Key Track:
Being Her Shadow
9. Pissed Jeans - Honeys (Sub Pop)
There's nothing like a little rage and nihilism that creeps into your life when you need it most. On their fourth album and third with Sub Pop, Allentown-through-Philadelphia hardcore quartet Pissed Jeans provides heaps of the stuff. Heading to Austin, Texas for SXSW shows the band has gained considerable momentum; "Honeys" is the sound of them smelling blood, figuratively if not literally. Bradley Fry's dirty, gritty guitar riffs on "Chain Worker" run the show, while vocalist Matt Korvette sounds like a bitter demon screaming through a megaphone. Even when the band lightens up on "Cafeteria Food", everything still simmers with an terrific intensity that bubbles and boils throughout "Honeys".
Key Track:
Chain Worker
8. Matmos - The Marriage of True Minds (Thrill Jockey)
San Francisco electronic duo Matmos have always made cerebal, glitchy affairs marked by high concepts and are "weird" enough to collaborate with Bjork on several occasions. But "Marriage" tops them all by stemming from a series of experiments that attempted to telepathically communicate with subjects about what they wanted their next album should sound like. Most saw images of triangles or heard chimes, a result as startling as it is mysterious. In trying to incorporate those sounds, "Marriage" can be genuinely unsettling and wonderfully strange all at once. The freaky "Ross Transcript" and creepy "In Search of a Lost Faculty" are only breaks in this album's fantastic forward motion.
Key Track:
Teen Paranormal Romance
7. Foals - Holy Fire (Warner Bros./Transgressive)
Math rock is not a genre with many standard-bearers, but Oxford, England's Foals are certainly the best on their side of the Atlantic. They're still on their game with "Holy Fire", even though the dance-punk workouts are even more contained than on "Total Life Forever". Of course the album sounds calculated, but they are also looking outward, recalling a stately and sweeping U2 (sometimes down to the guitar parts) while losing most of its bombast. Singer Yannis Philippakis embodies this trend, producing arching melodies and fluttering earworms while the band simply keeps chugging along. The balance between majesty and restraint on "Holy Fire" is kept awfully well.
Key Track:
My Number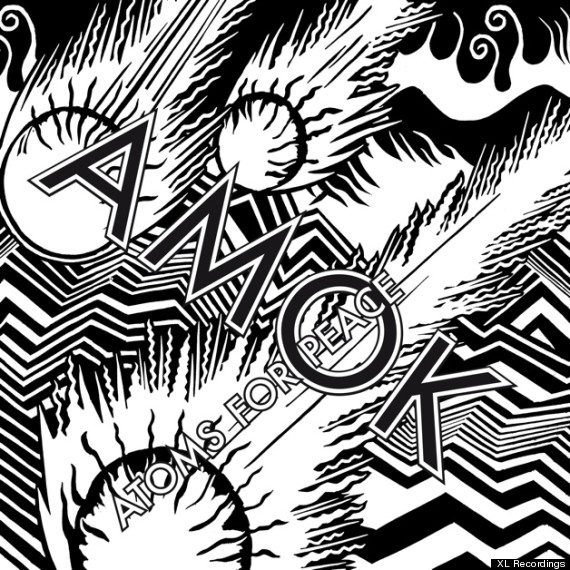 6. Atoms for Peace - Amok (XL)
Ladies and gentlemen, your supergroup three years in the making in finally here. The band, most notably containing Thom Yorke of Radiohead and Flea of Red Hot Chili Peppers, sounds like it should never, ever work. Thankfully, Fela Kuti and afrobeat were around for the quintet to bond in the studio. "Amok" plays like a continuation of Radiohead's "The King of Limbs" done on even starker terms. Yorke himself is solid, but his vocals are understated and drawn further back to make way for the clattering of percussion, live and digital alike. The emphasis on relentless groove comes with a set of minimalist tracks that are as intriguing as they are amorphous.
Key Track:
Default
5. Unknown Mortal Orchestra -
II
(Jagjaguwar)
Now that the surprise of Unknown Mortal Orchestra beaming down to earth with subtley psychedelic lo-fi in their self-titled debut is gone, the stakes were high for a follow-up. Luckily, the Portland, Oregon/Auckland, New Zealand trio successfully made the small jump in recording fidelity without sacrificing their signature sound. Singer/guitarist Ruben Nielson shows a more obtuse and minimal side to his songwriting while his thin yet resilient voice comfortably fits into the mist. The range of songs also broadens considerably, from the rollicking "One at a Time" to the jazzy "Faded in the Morning", but hardly sound forced or out of place like your typical sophomore slump.
Key Track:
So Good at Being in Trouble
4.
Autre Ne Veut - Anxiety
(Mexican Summer/Software)
There were several good R&B records this month, such as Bilal's (see Honorable Mentions), the maximalist, Prince-like Jamie Lidell self-titled and the ambient, minimal "No World" by Inc. Solo artist Arthur Ashin manages to take the two latter extremes and strike an exquisite balance. "Counting" starts as soft and brooding, but begins to tense until something finally gives in rapidly arpeggiating synths. Yet "Anxiety" truly sets Ashin apart by capturing the earnestness, strain and, fittingly, anxiety, in his voice right to the point where it would be sappy. Some synthesized vocals and elements that heighten the anxiety draw even a finer line, but through it all Ashin is triumphant with a truly distinct sound.
Key Track:
Play By Play
3. Iceage - You're Nothing (Matador)
On the cover of "You're Nothing", the swift and predatory falcon is safely contained and under control. In the music of "You're Nothing", made by four brash Danish punk rockers in their early 20's, that falcon is unleashed and attacking the falconer. It's clear that Iceage is hungry and is not messing around, but the impressive thing is how mature they sound when doing it. Singer Elias Bender Rønnenfelt's tortured screams of "Pressure, pressure!" in "Ecstasy" are thick and grittier than most twice his age. The album is also mature in that its barely-controlled outbursts are impeccably paced, while tempo shifts are never without impact. And when the somber piano fills in the background of "Morals", you know that you're hearing a truly dynamic rock album.
Key Track:
Ecstasy
2. Nick Cave & The Bad Seeds - Push The Sky Away (Bad Seed Ltd.)
For the last half-decade, Nick Cave had explored his garage rock side with the acclaimed "Dig, Lazarus, Dig!!!" and side project Grinderman's two albums. But then Cave declared Grinderman defunct in late 2011, leaving everyone to wonder what would come next. The answer is "Sky", a lush yet low-key Bad Seeds album not heard since the mid-90's. Aside from the fact that Cave was able to inhabit this type of sound once again without breaking a sweat, it is his deep, resonant voice telling somber stories that carries the album. Even when he rhymes "I lit the match that fired up her snatch", the stage that Cave sets is so enveloping that it can't help but sound endearing. To do it with barely a straightforward rock beat (or a straightforward beat in general, such as "Water's Edge") is astounding.
Key Track:
Jubilee Street
1. My Bloody Valentine - m b v
We knew this was coming for a few months now, but still seems unthinkable. The Dublin quartet that is known as the quintessential shoegaze band looked like it would never follow up the classic "Loveless". Now that "m b v" exists outside of analog studio tape (let alone Kevin Shields' head), we know that its predecessor can never be topped. What is also clear is that this album is more than worthwhile as a startling evolution of MBV's sound that is as exhilarating as it would have been in 1997. This evolution occurs in the casual warping of the "Loveless" sound to its absolute limit, where "Only Shallow" becomes the darker "Only Tomorrow". Instead of the all-encompassing guitar, "Is This and Yes" is driven by glossy, droning organ. "If I Am" showcases highly sophisticated jazz guitar chords complete with slight wah pedal. The last three tracks delve into even stranger territory, experimenting with Prodigy-style breakbeats and drum n' bass flair while keeping its shoegaze spin. Perhaps by taking their time and not repeating "Loveless", lightning has struck twice.