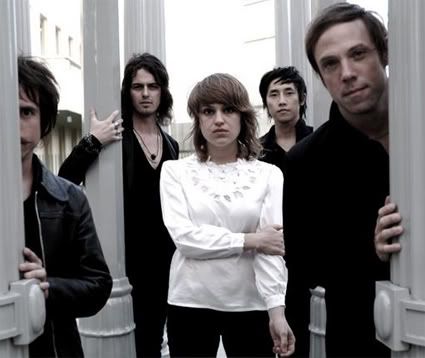 The Airborne Toxic Event has been "That bar band that everyone knows", but really they have held much fame since their self-titled debut album released in 2008. The quintet is most well known for their deep, intimate, and relatable lyrics. Their most famous song is "Sometime Around Midnight", which depicts a breakdown in a bar scene as the narrator sees his ex-girlfriend happy with another man. Stories like this one define The Airborne Toxic Event. Their third album, Such Hot Blood, was named after an early song of theirs that they felt described how passionate their music sounds. Surprisingly, this album can be compared to their widely acclaimed debut.
Why was their debut such a great album? Because every song is fresh, dark, Professionally made yet spontaneously executed with such intimate lyrics that it is practically impossible to forget them. Every tune is ridiculously catchy, unique and beautiful, which makes the album flow so smoothly. If you don't believe me then listen to album yourself and see why it made the band so popular.
Unfortunately, everything I said about Airborne's debut album I cannot say about the one that followed it, All At Once. With songs like "Numb" and "Welcome To Your Wedding Day", the music overpowers the lyrics that are not that great to begin with. "Changing" is a very catchy song, but it doesn't even fit in well with the rest of the album. On the other hand, I did like "The Kids Are Ready To Die" and "All I Ever Wanted", but overall the album is not as fluent and the music is easily forgettable. What bothered me most was how with this album I felt disconnected with the stories of real life struggles.
Now their third album, Such Hot Blood, was the determining factor in deciding whether the band would keep the name that they had started with. What I quickly realized was that this album is their name, or at least what is defined as their sound. Although I'm not a huge fan of the song, "Timeless", the album as a whole is played out very well, literally getting better from track to track as it progresses.
Such Hot Blood consists of ten songs about life crises, dark emotions, and past relationships, similar to that of the band's debut. The first half of the album holds all of the group's previous EP, opening with the vivacious track, "The Secret" and "Timeless". These songs are not nearly as good as the rest of the album, especially compared to "What's In A Name?" and "The Storm". Anna Bulbrook's violin completes the song "Safe", while "True Love" would not be complete without the collaborative vocals. "The Fifth Day" is the longest track that stops in the middle to start an amazing buildup that reminded me of the last track, "Innocence", of their first album. It begins with mere whistling and grows into such an immense sound complete with trumpet. This seems to be the highest point in the album, and one may think how this could possibly progress any further, and then comes the best song in the album, "Elizabeth", where Mikel Jollett admits that the reason that he doesn't write love songs is because he never experienced it well enough.
This album offers a great combination of lyrics and music. Some words throughout the tracks are often overly repetitive and the music does sound a little cliche, but Airborne's music is supposed to be deep and relatable, and indeed it is. I would definitely recommend it to any new or old fan of this band.