Hello everyone,
Well, this is awkward. Three weeks removed from May and I'm finally posting about it...ouch. Well I'd better move on, because I'm just making it more awkward...
May was another terrific month for music this year, and possibly the best one on paper. We had one triumphant return, an impressive debut, and albums from a slew of great (consistent and not so much) artists. But how did they fare in my list? You're about to find out!
Honorable Mentions: The Child of Lov - The Child of Lov (Double Six), Mikal Cronin - MCII (Merge), Eluvium - Nightmare Ending (Temporary Residence), Bibio - Silver Wilkinson (Warp), Laura Mvula - Sing to the Moon (RCA Victor)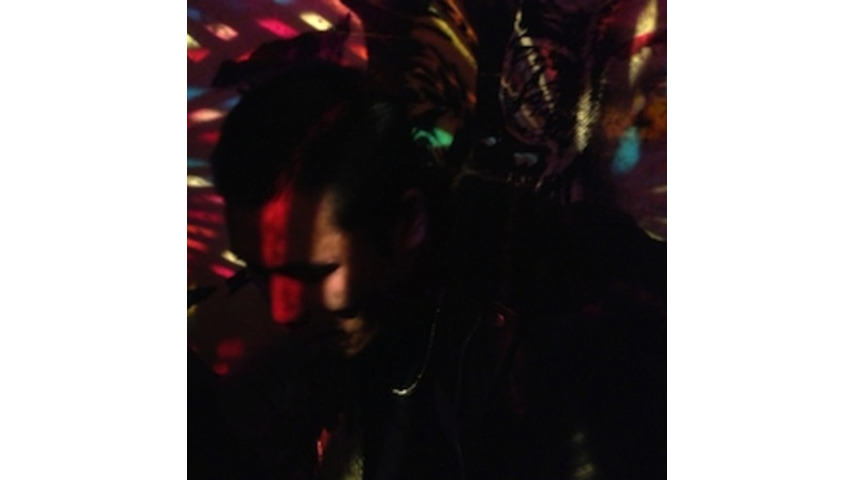 10. Dirty Beaches - Drifters/Love is the Devil (Zoo)
Songwriter/producer Alex Hungtai, known as Dirty Beaches for his records, is Taipei-born but has lived in many cities from San Francisco to Berlin. Those vastly different experiences may have contributed to his lo-fi electronic-meets-rockabilly style. But instead of his previous sampling, "Drifters/Love is the Devil" enlists several collaborators to create original loops. It is also an album split down the middle by an ended relationship, switching to instrumentals halfway through. Yet early, uptempo tracks such as "Night Walk" and "Casino Lisboa" lead seamlessly into the expansive "Greyhound at Night" and "Alone at the Danube River." The album is by nature schizophrenic, but Hungtai's mastery of his lo-fi aesthetic holds it all together.

9. Mount Kimbie - Cold Spring Fault Less Youth (Warp)

"Crooks & Lovers," the 2010 debut album of English electronic duo Mount Kimbie, may be the unofficial beginning of post-dubstep (preceding even close friend James Blake). The organic yet delicate approach that members Dominic Maker and Kai Campos took on that album is downplayed on their sophomore effort "Cold Spring Fault Less Youth." Muted synths are then paired with the crackling snare and husky vocals of King Krule on "You Took Your Time." Even the single "Made to Stray" eschews melodies for intricate rhythms. Maker and Campos might be thinking bigger, but the genre-bending, field-recording mentality remains at the core of "Cold Spring." Still, Mount Kimbie have pushed themselves in new, compelling directions for a worthy follow-up to their debut.

8. Majical Cloudz - Impersonator (Matador)

Big voices are a common element of electronic music, but Montreal songwriter Devon Welsh doesn't exactly fit the mold. His sultry baritone is at the forefront of "Impersonator," his second album as Majical Cloudz, while minimal yet lush electronics (co-produced by Matthew Otto) provide a stark background. This combination leads to some beautifully sad moments such as "Childhood's End," with it's lamenting refrain of "went down on me" as death happens all around him. And Welsh's da's and dum's of the title track carry an air of heartbreak over looped strings and wordless ahhs. "Impersonator" is an ironic title; very few sound quite like Majical Cloudz, let alone pull off his blend so well.

7. Primal Scream - More Light (First International)

In their 30+ years of existence, Scottish rock/electronica sextet Primal Scream are a mixed bag, with several lamented, Stones-esque departures in between bonafide classics. Yet on their tenth album "More Light," the band has pulled another rabbit out of the hat just when you thought they had nothing left. This time, it's psychedelic rock that Primal Scream uses so effectively. Opener "2013" is a great example, starting with fluttering synths and phased-out guitar before launching into a chugging groove and a killer saxophone melody. The Stones are still an obvious presence, but that doesn't fully explain the bluesy waltz of "Tenement Kid" or the dance-punk of "Invisible City." "It's Alright, It's OK" for Primal Scream, as the closing gospel track says; they're doing fine as a band if they can still put out such a bold and excellent record.
6. The National - Trouble Will Find Me (4AD)
As one of the world leaders in brooding indie rock, Cincinnati quintet The National have become certified critic's darlings since 2005's "Alligator". They've earned it, too; vocalist and songwriter Matt Berninger leads a literal band of brothers with remarkable consistency. The band's sixth album "Trouble Will Find Me" wisely decides not to fix what's not broken. It combines post-punk flourishes ("Sea of Love", "Graceless") and delicate folk rock ("Fireproof", "Slipped"), all with the weighty presence of a deep rhythm section and Berninger's down-in-the-dumps baritone. Not to mention the opening one-two punch of the catchy "I Should Live in Salt" and the propulsive "Demons". Though the overall sound of "Find Me" is predictable and nothing new, The National manage to throw in a few new angles to their already excellent sound.
5.
Deerhunter - Monomania
(4AD)
Altanta, Georga noise rock quintet Deerhunter in the 2010's--along with singer/songwriter Bradford Cox's side project Atlas Sound--had been mellow and ambient compared to their earlier works. Most of that restraint disappears in a flash with "Monomania". Self-described as "Nocturnal garage", the album hearkens back to Deerhunter's early live antics, presumably in the dankest dive bar you can imagine. "Leather Jacket II" starts with piercing guitar feedback before a squealing and rumbling freakout. The title track does this new/old sound best, full of thrashing garage rock and Cox's punk-y snarls. Not that Deerhunter can't turn it down and still rock, as on mid-album breather "T.H.M." It's just that Cox and his distorted, sloppy double-tracked vocals are still omnipresent. Whether or not they're tired of "Helicopter," "Monomania" is a refreshing 180 from one of the best rock bands in the business.
Key Track:
Monomania

4. Laura Marling - Once I Was An Eagle (Ribbon Music)

It's pretty incredible to say that there's a folk artist out there who just released her fourth solid album before the age of 24, but that's what we have in Laura Marling. The Hampshire, England native took the London folk scene by storm at age 18, but "Once I Was An Eagle" shows Marling truly coming into her own as an artist. Over sixteen songs, she throws out one fully-realized idea after another, sometimes running seamlessly as a quasi-suite. Syncopated percussion and Marling's deft acoustic guitar set the stage very well, while her soothing and elegant vocals seal the deal. From the low notes on "I have you, bad man" in "Little Love Caster" to her soaring "when we were in love" on "I Was An Eagle," Marling has dynamic range punctuated by a voice with the wisdom of one twice her age. As an album statement, she'll be hard pressed to top this album, a confirmation of her place as one of music's vibrant talents, and still rising.
3.
Vampire Weekend - Modern Vampires of the City
(XL)
Here's a line you won't hear on Vampire Weekend's self-titled debut: "You and I will die unbelievers..." Death was definitely not on the minds of well-off Ivy league students, but a lot can happen in five years. The third album from the NYC indie rock quartet is their "grown-up" album, but it's actually spelled departure, with a capital D. The friendly Soweto-influenced grooves, reverb-heavy guitar and posh string arrangements are either kept from the forefront or completely discarded. The electronic elements hinted at by their sophomore effort "Contra" are all the rage now, recalled not only side project Discovery but the totally-serious-pre-Vampire-Weekend rap group. There are also bold experiments in pitch shifting and drum tape-manipulation, best heard on the rollicking "Diane Young". This band had been great before, but "Modern Vampires of the City" shows Vampire Weekend's true potential and nature of rampant (and rewarding) eclecticism. As Ezra Koenig sings in "Everlasting Arms", the chandelier is going down.
2.
Daft Punk - Random Access Memories
(Columbia)
Those who know me know that I love Daft Punk, so perhaps this is a biased ranking. "Random Access Memories" is the French electronic duo's fourth studio album, their first in eight years. It was a wild, hype-filled ride to its eventual release, from teaser SNL spots to declaring EDM to be a "stagnant" genre. As promised, it brings in studio musicians--collaborating with disco pioneer Giorgio Morodor and Chic guitar wizard Neil Rodgers, among others--to relive the groovy disco/R&B of the late 70's and early 80's. However, Thomas Bangalter and Guy-Manuel de Homem-Christo are still capable conductors, providing expressive vocodors ("Within"), tight drum machines ("Doin' It Right") and synths that range from glossy to grating. Also, they keep that electronic philosophy of tension and release; "Giorgio by Morodor" and "Contact" are built like classic Daft Punk songs, even if they don't sound like them. And of course, there are the career highlights of "Get Lucky" and "Doin' It Right", two stellar collaborations (Pharrell and Panda Bear, respectively) that play on separate "memories" of the era. And yes, it's lengthy and schmaltzy, but that's nothing out of the ordinary for Daft Punk. Overall, it's a bold yet rewarding release that's a worthy addition to the band's great catalog.
1.
Savages - Silence Yourself
(Matador)
Debut albums have some kind of allure to them that's hard to explain. It's when a band is hungriest, just bursting onto the scene with a lot of time to hone their craft. And when the band's sound is fully realized on their debut, you have a select few. The Doors and Jimi Hendrix come to mind, as well as recent successes such as The xx and Janelle Monae. "Silence Yourself" deserves to be in that group as well; it's an impressive showcase of the lean, mean and badder-than-bad London quartet known as Savages. As far as post-punk goes, "Silence Yourself" is some of the hardest and best to come along in a long time. Gemma Thompson's heavy waves of distorted guitar, Ayse Hassan's fat, nimble bass and Fay Milton's thunderous drums back Jehnny Beth's wails with a lot of force. And the fact that this is an all-female band only accentuates the emotions that boil over in these jagged tunes. For instance, the album starts off with some dialogue between a pushy, older woman who keeps asking a younger woman how old she is. Frustrated by something, possibly the impossible expectations of beauty for women or authority in general, the band launches into "Shut Up", letting us know that she's fed up with the bullshit. "She Will" forces those expectations with a near-crippling anxiety, finally breaking down with Beth's blood-curdling scream at the end. Whether it's musically or lyrically, each of these songs hit with a power that's nothing short of incredible. Just listen to it already, and be quiet.