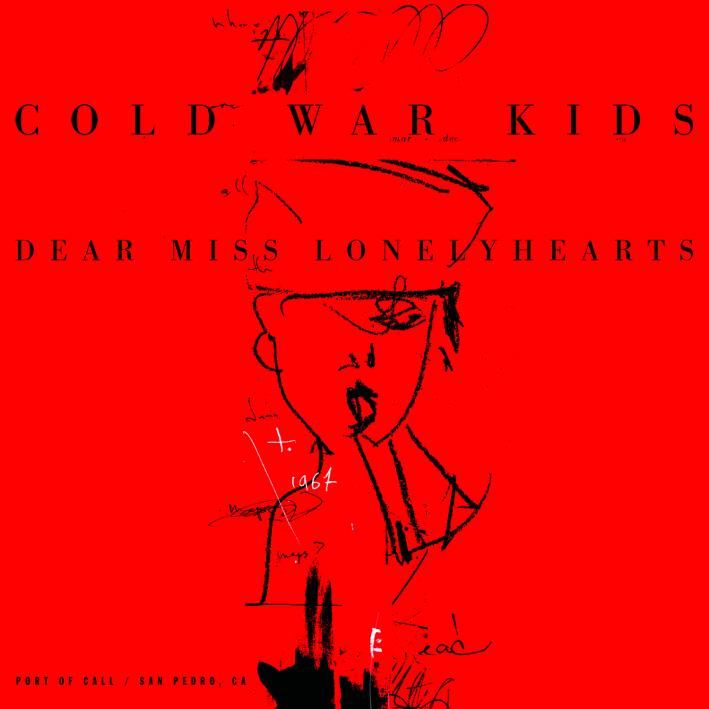 Imagine an indie rock band that started out sounding like The Black Keys and four albums later they sound like The Killers. This would be an accurate description of Cold War Kids, who have had their discography shaken up by music critics alike. It almost seems like this band is just going where the industry went five years ago. Perhaps people like to take a few steps backwards now and then. Their new album, Dear Miss Lonelyhearts, is short of the "breakthrough" status that most fans were hoping for, but I can't say it's a terrible album. There are some pretty good songs on it.
I really enjoyed Cold War Kids' first album, Robbers & Cowards, with songs like "We Used To Vacation" and "Hospital Beds", but all their deeper tracks were solid, catchy, and unique as well. I recall going days straight with "Saint John" stuck in my head. The next two albums would have their high and low points, but never quite like the debut. The band expanded their sound with every release, which seemed to have given them access to ride the "pop train", but more like the caboose of the pop train, for their music sounds like it would have been played on the radio right alongside The Killers' first two albums. It would be wrong to compare their new album with their first, because although there still are some similar elements, the albums could be classified under two different sub-genres of rock.
Just
over thirty minutes,
Dear Miss Lonelyhearts
begins with the band's own thoughts about their current status. Nathan Willet sings, "I was supposed to do great things/I'd know the rule's law/But I wasn't raised to shoot for fame/I had the safety on." The first track, "Miracle Mile", also a single, is a vivacious tune that opens the album very well.
The song, "Lost That Easy", introduces a different side to Cold War Kids: a more pop-built one. Surprisingly, it's one of the better tracks on the album. "Loner Phase" sounds most like The Killers, but "Fear and Trembling" strays from that path entirely. The added saxophone fits in nicely especially when it goes on to solo. I believe that this is one of the more authentic tracks.
"Tuxedos" is soulful tune which is the most relatable both musically and lyrically. "Bottled Affection" is by far my least favorite song on the album, because not only is it much different from the album and terribly placed after a song like "Tuxedos", but it sounds like the bad side of The Airborne Toxic Event. "Jailbird" is not much better, sounding like every other song on the radio. "Water & Power" and the title track are decent tunes, having more elements of the band's past works. The final song, "Bitter Poem", has a nice ending, but for leaving it at thirty minutes, the entire album seems to be just warming up.
Perhaps what I dislike most about Dear Miss Lonelyhearts is how musically, there's no continuity to it. Some songs are very poppy, while others are blues or rock based. Nothing really accents one another and some of the transitions from track to track are a bit rough. This only means that I may not return to the whole album in the future; however, I really enjoyed tracks like "Miracle Mile" and "Tuxedos", so I would definitely come back to them. I would deem it quality music, but one may just have to dig a little deeper.